Free Climbing Course in Southern Sardinia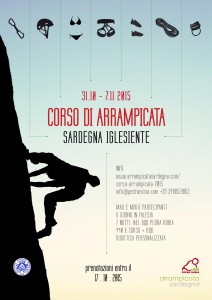 A Free Climbing Course in the beautiful crags of South Western Sardinia. This is the new offer for our climbing users.
When and Where: the period of the course is the week from 31st of October to the 7th of November 2015.
6 climbing days in the crags of Sulcis Iglesiente with lessons by the Certified Alpine Guide Lorenzo Merlo. 
The lessons are basic for an entry level approach to climbing. The participants will stay at the B&B Pedra Rubia, in the village by the sea of Nebida, near Iglesias, South West Sardinia.
The cost of the package (Course + Staying) is 440€ per person, It includes:
Free Climbing Course with Alpine Guide with 6 days of climbing
7 night + breakfast at the B&B Pedra Rubia in double room with private bathroom.
The price does not include the fly cost or any other transport cost from your departure place to Cagliari Airport/Station, car rental or the dinners. It does not include what is not specify in the program. 
Terms and Conditions
The program of the week may vary depending on the weather, sea conditions or the composition of the group.
Necessary gear: harness, climbing shoes and helmet.
The other equipment (ropes, carabiners, quick-drop, gri – gri will be provided by the organization).
How to Book the Course
50% deposit (bank transfer or cash) and the balance at the start of activities (first day of arrival).
Minimum number of participants: 6.
If this number is not reached , the course will not take place .
The deadline fo reservations is 17 October 2015 .
For Booking or info, please contact:
Marco Bigatti: +393488521863
info@pedrarubia.com
Web site of the B&B Pedra Rubia: http://bb-sardegna.com/